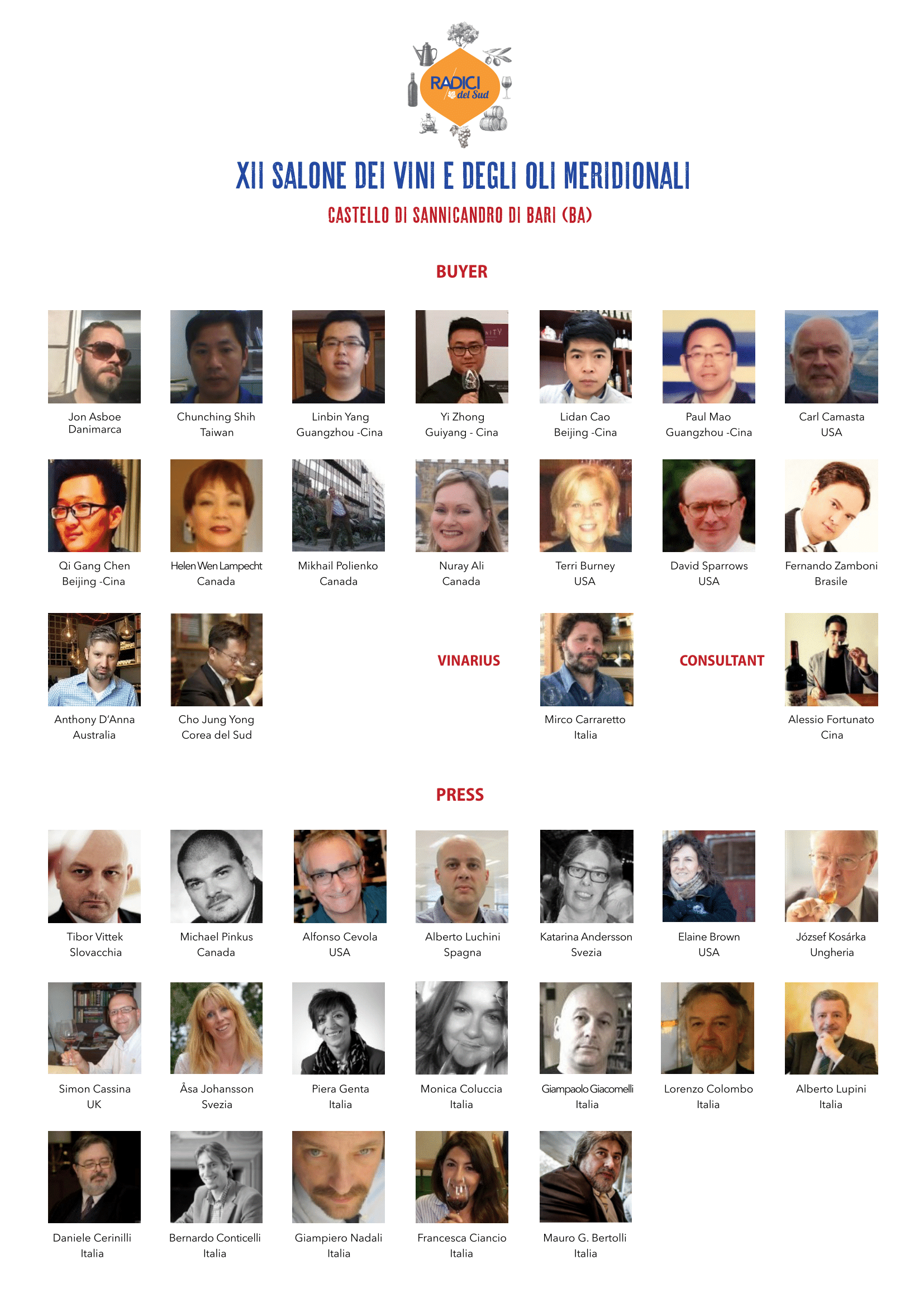 350 wine samples blind tasted by the two juries made up of journalists and buyers.
The finalists' names given on Monday 5th during the Wine Exhibition
A little more than two weeks before Radici del Sud opens its week focused on wines from native grapes and oils produced in Southern Italy.
About 350 samples of wine produced by the participating wineries from Apulia, Basilicata, Campania, Calabria and Sicily will be blind tasted on Saturday 3rd and Sunday 4th June by the juries composed of journalists and buyers.
The two juries will be divided into four groups led by the two presidents Alfonso Cevola and Daniele Cernilli helped by the journalist Ole Udsen from Denmark and Bernardo Conticelli. Four enologists of the Assoenologi Association will participate as well as some members of the Vinarius network.
The way the juries have been arranged since last year will allow the results to be read in a more immediate way. On the one hand we'll rely on those experts who base their opinion rather on the markets trends and the wine appeal taking into consideration the consumers' requests, on the other one the journalists coming from all over the world will give their opinions after comparing their impressions.
What's new this year is that on Monday 5th June, during the Wine Exhibition open to the public, they will give the names of the 70 finalists of the competition. These wines will be tasted again from 20th to 30th June by Italian connoisseurs and journalists who will proclaim the best sparkling wine, the white, the red and the rosé one of the 12th edition.
The awards of the 70 selected wines and the three best wines will take place on 27th November at Castello di Sannicandro di Bari during Radici Wines Experience when also a wine tour with foreign buyers and journalists is scheduled.
The juries at Radici del Sud 2017
WINE WRITERS
Gruop 1
1. Daniele Cernilli - Italy / President of the jury
2. Alberto Lupini - Italy
3. Asa K. Johansson - Sweden
4. Enrico Malgi
5. Francesca Ciancio - Italy
6. Giacomo Bertolli - Italy
7. Giampaolo Giacomelli - Italy
8. Michael Pinkus – Canada 9.Pasquale Pastore-Italy / Oenologist
Group 2
1. Bernardo Conticelli - Italy / President of the jury
2. Giampiero Nadali - Italy
3. József Kosárka - Hungary
4. Katarina Andersson - Sweden
5. Lorenzo Colombo - Italy
6. Mirco Carraretto - Italy
7. Monica Coluccia - Italy
8. Simon Cassina – United Kingdom
9. Tibor Vittek - Austria
10. Massimiliano Apollonio – Italy/ Oenologist
WINE BUYERS
Group 1
1. Alfonso Cevola - USA / President of the jury
2. Anthony D'Anna - Australia
3. Bo Mao - Guangzhou, China
4. Carl Camasta - USA
5. Chun Ching Shih - Taiwan
6. David E. Sparrow - USA
7. Helen Wen Lampecht - Canada
8. Jon Asboe – Denmark
9. Giovanni Aiello – Italy/ Oenologist
Group 2
Ole Udsen - Denmark / President of the jury
2. Jung Yong Cho – South Korea
3. Alessio Fortunato - China / oenologist
4. Li Dan Cao - Beijing, China
5. Lin Bin Yang - Guangzhou, China
6. Nuray Ali - Canada
7. Qi Gang Chen - Beijing, CHINA
8. Terri Burney - Texas, USA
9. Yi Zhong - GuiYang, CHINA
RADICI DEL SUD 2017- The Exhibition of Southern Italian wines and oils in brief
WHERE: Castello Normanno Svevo di Sannicandro di Bari (BA)
WHEN: 30th May – 5th June 2017
PUBLIC OPENING TIMES: Sunday 4th June from 3.00 p.m. to 8.00 p.m.; Monday 5th June from 10.00 a.m. to 8.00 p.m.
ENTRY: tasting kit 15 Euro (including the glass, the bag and tasting notebook) to be used in the conclusive evening too. Buffet dinner coupon 20 Euro (it includes the tasting of the dishes prepared by the chefs). Tasting kit + dinner coupon: 35 Euro.
PARKING AREA: available
Children under 18 don't pay and aren't allowed to taste.
Media partner: LucianoPignatarowineblog
PRESS OFFICE
Davide Cocco
392 9286448
Anna Sperotto
349 8434778
All news